Following a coup in Egypt, civil war in Syria, and mounting armed conflict in Libya, Tunisia may well be the Arab Spring's last hope for a true success story. Three years after deposing dictator Zine El Abidine Ben Ali, Tunisia's populace has voted in its second parliamentary election, and preliminary results show that the leading secularist party Nidaa Tounes ("Call for Tunisia") has won 80 of 217 parliamentary seats. Nidaa finished ahead of the incumbent Islamist party Ennahda (67 seats), and its electoral success is viewed as a mandate from the people to uphold Tunisia's secular reputation.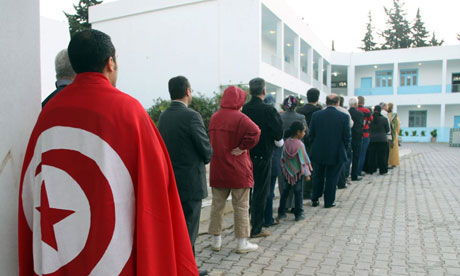 Tunisians line up at the polls. Photo courtesy EPA.

 
Among the states that experienced regime change during the Arab Spring, Tunisia stood alone for its history of secularism and relatively peaceful transition. Following the uprising, however, Ennahda's rise to power coupled with two assassinations of secular opposition leaders and attempted suicide attacks led to fears that the country was backsliding into extremism. These fears are hardly surprising given the tragic trail of events in Egypt, Libya, and Syria, but do not appear to be manifesting in the latest elections. While extremist parties like Ansar al-Sharia continue to threaten political stability, the willingness of Ennahda, Nidaa Tounes, and the multitude of smaller political parties to seek coalition and cooperation has for now overcome their ideological differences in the interest of stability.