A Gazan woman surveys here destroyed home.
Courtesy Reuters/Suhaib Salim.
As the dust and smoke clear over the Gaza Strip in the wake of Tuesday's ceasefire agreement between Hamas and the Israeli government, the toll of the 50-day conflict begins to become clear. The human losses are undeniably first in the minds of Gazans and Israelis: over 2,200 dead and 11,000 injured, mostly Palestinian civilians, numbers that bely the terror visited upon both communities living under siege for almost two months. While the human costs are horrific, Gaza's future viability may turn out to be a more long-term casualty visited upon Gazans. In 2012, the UNRWA released a
report
that estimated Gaza would be uninhabitable for the two million plus people who will be imprisoned there by 2020.
As the damage stemming from the most recent conflict is assessed, there is no question that this picture will look much bleaker, and the timeline for Gaza's demise will have accelerated unless dramatic action is taken on the part of Hamas, the Israeli government, and the international community.
Over a quarter of Gaza's population was internally displaced by the conflict, nearly 500,000 people. As they return to their neighborhoods, many will find that they no longer have homes to return to. According to early UN estimates, at least 17,000 homes were destroyed, or as much as 20-25 percent of total housing
units
. While previous Israeli
strategy
in Gaza was to launch "pinpoint" strikes that would take out targeted apartments (often belonging to Hamas leaders) while leaving apartment buildings standing, this conflict saw a shift in tactics to destroying whole buildings. On Tuesday, just before the ceasefire went into full effect, two of the largest Gaza City apartment buildings were leveled because they contained Hamas offices. Since Saturday,
Israel
had toppled or destroyed five towers and shopping complexes.
Because of the conflict, much-needed services to beleaguered and ill Gazans will also suffer. Besides the damage to key infrastructure such as water supply, farmland, and municipal offices, 40 percent of hospital beds were rendered unusable. With over 11,000 injured Gazans as well as many more who will suffer from the psychological effects of the conflict – including PTSD, night terrors, inability to work or sleep, etc. – will have few resources to call upon as they begin the healing process, both physical and mental. In addition to the toll of war in the healthcare sector, Gaza's only power station was destroyed on 29 July, and "pumping stations, power transmission networks and water pipes have all been severely
damaged
." The tally of infrastructural damages is currently
estimated
at $50 million, although that number is likely to climb as the extent of destruction becomes clearer.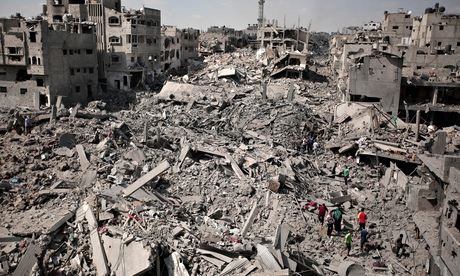 Destruction in Gaza, courtesy Madji Fathi/NurPhoto/Corbis.
Gaza's economy, already faltering due to the Israeli blockade, will also suffer in the months and years to come. Estimates place the cost of the conflict at $6 billion to the economy, and businesses will struggle to reopen without the necessary capital or construction materials. Ten percent, or 360, of Gaza's factories were destroyed in the conflict, including the largest factory in Gaza in Deir al-Balah that employed 450 people. The damage to business is estimated to be three times that of the 2009
conflict
and will cost businesses at least $70 million to repair. In a territory where the unemployment rate before the conflict was already 40 percent, it is frightening to think what people will turn to in the absence of regular employment. It will almost certainly not be towards activities that are beneficial to the Gaza Strip as a whole, or to Israel for that matter.
Unemployment has been and will be a central concern for the Gazan leadership i
n the wake of the conflict, and a lack of opportunities for Gaza's youth in employment or education is especially worrying. 142 schools were damaged or destroyed in the conflict, and another 90 are now housing displaced civilians. Classes were not held throughout the 50-day conflict, which means hundreds of thousands of school-aged children are now behind in school. Sixty-five percent of Gaza's population (1.2 million people) are under 25, so without school, and without jobs, there is a serious and well-founded fear that joining extremist groups will be the only viable option for many of these youths to feel a sense of purpose.
According
to Maryanne Yerkes, a senior advisor at USAID, "The gradual descent of youth into cycles of violence is guided by a complex, interrelated set of push and pull factors…These factors include job availability, education enrollment, demographic exclusion, and social stability, which can converge in ways that prevent youth from completing the transition to adulthood and leave them permanently excluded from society." As the New York Times recently pointed out, anyone over the age of 7 has lived through three wars in the Gaza Strip; in the absence of meaningful opportunities to improve their futures, it will hardly be any wonder if these children turn to extremism and violence as they reach adulthood.
The current ceasefire has provided for some of the stepping-stones towards a more sustainable situation in the Gaza strip. Some construction materials, including much-needed cement, are to be allowed through from Israel and Egypt; one border crossing has been expanded to allow 600 trucks carrying supplies through each day, as opposed to the 300 that could cross prior to the conflict. All border crossings with Egypt and Israel are to be opened immediately, and the meager fishing area granted to Gaza will be extended gradually from three to twelve miles. In a month, leaders will meet again in Cairo for indirect talks to discuss prisoner releases and the construction of a long-awaited seaport and airport, both awarded to Gaza in the Oslo Accords but never actually allowed by the Israeli government.
Yet without a long-term agreement for the gradual lifting of the Israeli blockade, continued work on the power-sharing arrangement between the Palestinian Authority in the West Bank and Hamas, and a serious commitment on the part of Hamas to use resources not for war, but for development, Gaza will likely still be uninhabitable in 2020. Damages from this conflict are estimated to be at least three times that of the 2009 conflict and greater than the last two conflicts combined. Unless the long, difficult, mutually disagreeable process of ending the blockade (and the seemingly but not necessarily impossible task of agreeing on a permanent Israel-Palestine solution) is undertaken in good faith by both Hamas and the Israeli government, the next conflict will come, perhaps sooner than we think. When it does, it will likely render the Gaza Strip completely uninhabitable, making this "
open-air prison
" truly hell-on-earth for the civilians who call it home.
**The Wall Street Journal has created a compelling before-and-after photo
series
I encourage anyone interested in the extent of damages to see.