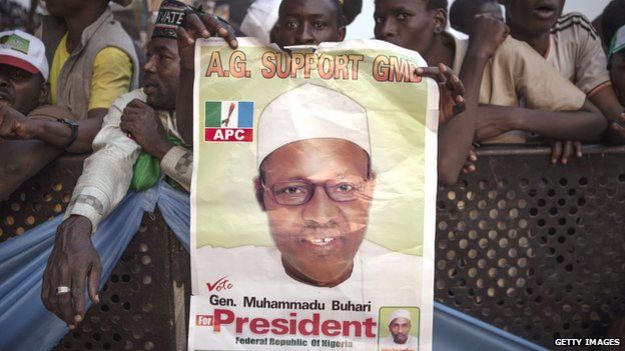 A historic election in Nigeria brought to power former military ruler Muhammadu Buhari, ousting incumbent Goodluck Jonathan. For the first time in Nigerian history, democratic elections led to the ruling party conceding victory to an opposition party. General Buhari was declared the clear winner by more than
2.5 million
votes over his rival, and outgoing President Jonathan, whose party held power for the past 16 years, conceded by phone on Tuesday. He offered best wishes to his successor, urging his supporters to "use due process" to express any frustrations with the new government.
This election had already been postponed six weeks due to instability in the state and the inability of the military to fight Boko Haram while also providing security for voters headed to the polls. On Sunday, in-progress elections were extended by one day, due to voter accreditation machine malfunctions and other problems. Rumors of electoral violence across the state emerged, with new outlets reporting that Boko Haram extremists had beheaded 40 people, including a legislator, with chainsaws, scaring hundreds of others away from polling stations in northeastern Nigeria. Other reports of violence include reports of people (including military personnel) being shot and killed, as well as two car bombs exploding at polling stations in the southeast region of the state.
Incoming President Buhari served briefly as Nigeria's president from 1983-85, following a military coup. A subsequent military coup deposed him in 1985. This is his fourth time seeking the presidency, after his notable failed third attempt in 2011 that sparked violence between Muslims and Christians and the deaths of 800 Nigerians across the state. General Buhari hails from Nigeria's poorer, Muslim north, while current President Jonathan comes from the oil-rich, Christian south. Some fear that yesterday's election results will lead to riots and further fighting between the religious groups.
That Nigeria has returned to power a military ruler after years of democracy highlights the exponentially increasing frustration with Jonathan's administration, which has been inept at revitalizing Nigeria's collapsing economy and fighting the scourge of Boko Haram.
Nigeria became the region's largest economy last year, as one of Africa's biggest oil producers, and a major exporter of crude oil to the United States. The state is home to many international oil companies and workers. However, economic growth has favored only a small minority of the country's population, as
about 70%
of Nigerians currently live below the poverty line. Jonathan's
campaign
had promised to add 2 million jobs, through initiatives aimed at empowering entrepreneurs and employing graduates. Buhari promised a much more modest 720,000 thousand jobs (20,000 per state), pledging to develop the agricultural and manufacturing sectors. Diversification will be key for sustainable economic growth, especially in light of falling oil prices.
Boko Haram killed about 10,000 people last year, displaced approximately 1.5 million people, and kidnapped hundreds of others. The 219 schoolgirls abducted last year have yet to be found, and are assumed to have been forcibly converted and married off to Boko Haram fighters. Jonathan's government has made repeated statements about regional and international cooperation to bring stability to the region, but to no avail. Buhari has pledged to defeat Boko Haram within months of being elected, a promise of which I am highly skeptical.
Defeating the insurgency will require regional cooperation, as the territory under Boko Haram's control has already spilled over to neighboring states, and its range of operations has expanded. Buhari seems better equipped than Jonathan to weed out corruption in and strengthen the military into a dependable and governable force. This process will be a prerequisite for ending the insurgency, but this alone will take more than months.
Perhaps Nigerians believe that a military leader might be able to end the insurgency.
Or perhaps they have nothing else to lose.